Fans of endurance races and racers, alike, tend to have great senses of humor. The signs of encouragement and statements made on t-shirtsoften make me smile, and sometimes even laugh out loud.
My favorite sign EVER was displayed at the Philly Marathon in 2010. It read:
That's not sweat. It's your fat cells crying.
This cracked me up to no end. Nothing like laughing out loud at mile 22.
The DC RnR half marathon was also full of wonderful signs and t-shirts. Prior to reaching our start corral on Saturday morning we saw a woman wearing this shirt (only in neon yellow).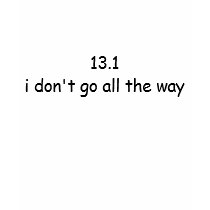 Love it!
Some of the other memorable signs along the course included:
You run better than metro!
Kiss me I'm Irish. And single.
You make a better running mate than Joe Biden.
Toenails are for sissies.
There was also a guy standing just steps away from the starting line yelling, "Twenty-six more miles to go! You've got this." I appreciated his wicked sense of humor. And there was a lady along the course dressed in costume as a container of mustard. She had a sign, but I was too distracted by the costume to read it. I imagine the sign was funny because you need to have a sense of humor to dress up like a mustard container for a race not remotely close to Halloween
Finally, mad props goes to the family and friends who set up a BUBBLE MACHINE along K Street in NE. There is something special about running through bubbles on your way to an epic half marathon finish.