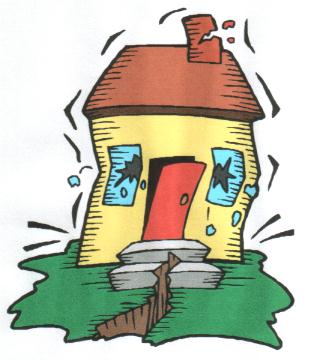 Yesterday a 5.4 magnitude earthquake hit southern California. The quake was felt from Los Angeles to San Diego to Las Vegas. An earthquake in California, especially one that caused so little harm to things or people, wouldn't normally be blog-worthy news in my opinion, but this earthquake was not just any earthquake. It was my brother's first. He is no longer an earthquake-virgin.
I first heard about the quake when I turned my computer on late yesterday afternoon. The quake was the top story on Google News. Knowing that it was the middle of the work day on the West Coast and not wanting to bother my brother at work, I called my parents to see if they had heard anything. My dad had just gotten off the phone with him... He assured me Jeff was fine, but encouraged me to call Jeff in the evening to hear about his experience first-hand.
Jeff's tale was quite funny... when the earthquake began, he wasn't sure what was happening. He first hypothesized that a helicopter had crashed into the building where he works. He then thought that a construction crane across the street from his office building may have crashed to the ground. As the shaking continued, he realized it was an earthquake. Upon realizing that it was an earthquake, he quickly realized he had no idea what to do. Seeing none of his co-workers, he decided to run; get out of the building ASAP. He was just about out the door when he realized his cell phone was on his desk. Not wanting to be disconnected from the world, he ran back inside. Upon running back in, one of his co-workers emerged from underneath her desk to ask Jeff what he was doing. Jeff explained and the girl informed him that running is a bad idea; the smart thing to do is hide under your desk until the shaking stops. So that is where Jeff went until it was over.
Afterwards, Jeff took a lot of crap from his co-workers who said he ran like a "scared little girl" during the earthquake. When I asked Jeff what it felt like, he explained in a way only those of you from the Pittsburgh area would understand... he said it felt like he was on the old Noah's Ark ride at
Kennywood
, specifically the part where you had to walk through the narrow hallways where the floor boards bounce up and down and move left to right while at the same time the entire ride is rocking/swaying back and forth.
About 15 minutes after his first earthquake was over, Jeff said his heart rate finally settled down. He survived and will, without a doubt, be more prepared if/when the next earthquake hits.